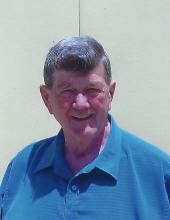 Obituary for Gerald Bernard Odo
Gerald Bernard Odo
1945 – 2020

There comes a time in all our lives when we have to leave our earthly bodies aside and place ourselves in the arms of our Creator. On April 28, 2020 Gerald Bernard Odo surrendered his all to God, his work was over, he finished the race.

Gerald could be best described as a quiet, gentle soul who appreciated the simple things in life, a miner for over 25 years and a construction worker with the Pipe Fitters in various fields across Nova Scotia. Born July 14, 1945, he embraced life with gratitude and tried his best to live each day thanking God for getting him through each trial that came his way. He loved God and he loved his Parish Church of St. Leonard. On December 7, 1993, he accepted the 12 steps of the A.A. fellowship which nourished his heart, mind and soul to the last moment of life. In May 2000, he was welcomed into the CND Associate Relationship program and lived may wonderful "visitation" moments with the Sisters and Associates of the Congregation of Notre Dame, following always in the footsteps of St. Marguerite Bourgeoys.

He is survived by his wife Winnie; son Raymond; grandchildren Isabella, Zachary, their mom Melissa Lewis; his sisters Marie Corbett (Leo deceased), Teresa (Murray Gallant); sister-in-law Beatty; nephew Brian Gallant (Heather) who was mostly his baby brother; his cousin Brian Burke who was like a second son, and many nieces and nephews whom he dearly loved. Survived also by Winnie's family; Joe (deceased) and Theresa, Eddie and his wife Patsy, Norma MacPherson (Joe D. deceased), Ozzie and Irene, Marie (deceased) and her friend Art MacIntyre, Mary Dewan (Harvey deceased), his in-laws who were also family to him.

Gerald was pre-deceased and blessed with many moms and dads, among them were John Murdock and Mildred Odo, John and Elizabeth Moore, John and Rita Burke, his aunt and uncle Minnie and Mack Feit. He was also pre-deceased by his brother Tim who never allowed the word "no" to be part of anything connected with Gerald; a special brother Sonny (Judy); sister Carol (Leonard Roach).

Cremation has taken place and a memorial mass will be celebrated at a later date.

Donations in Gerald's memory can be made to the charity of one's choice.