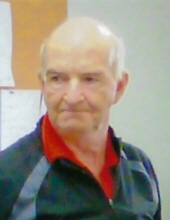 Obituary for Thomas Joseph MacMillan
MacMillan, Thomas Joseph
1955 - 2020

It is with heartfelt sadness that we announce the passing of my brother, Thomas Joseph, who passed away suddenly at his residence on May 12, 2020, at the age of 65.

Tommy was employed as a pipe fitter , UA Local 642, from the age of 18 until his retirement in 2015. He enjoyed being around people and was friendly to everyone he met. He loved the household dog, Susie, which brought him much joy.

He is survived by his sister, Frances Woodland (Richard) of Lingan and very special lifelong friends, Allister, Colin and Craig MacLeod, with whom he resided.

Tommy was the son of the late Thomas A and Florence (Meechan) MacMillan. He was also predeceased by two brothers; Michael and Hugh; aunts Frances MacMillan, Sr. Frances, Sr. Rita, Natalie Myles, Mary Peckham; uncles Joseph MacMillan, Michael Meechan; and lifelong friend Ann Marie.

Cremation has taken place. Funeral service will take place at a later date.

Donations in Tommy's memory can be made to the charity of one's choice
.
Funeral arrangements are under the direction of McLellan Brothers Funeral Home, 3183 Plummer Ave, New Waterford, 902-862-7500.