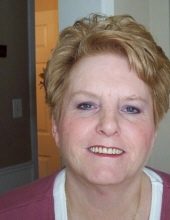 Obituary for Sharon Ann Gail McPherson
Sharon Ann Gail (McDermaid) McPherson
New Waterford/Dartmouth

It is with great sadness that we said goodbye to our sweet and loving wife, mother, sister, grandmother, and great-grandmother on July 16, 2020 at the QE2 Halifax Infirmary. She was 71.

Sharon was born in Chatham, NB on August 16, 1948 to James Rexford "Rex" and Hilda Mary (Voutour) McDermaid.

Sharon was an amazing cook. She worked at Jaspers Restaurant in Sydney River for many years until she retired. She also tried her skills as a banquet caterer for many dart league and weddings. She also had a passion for quilting. Sharon had a big heart, she was strong willed and smart, and everyone loved her.

Sharon is survived by her husband of 52 years, Blair McPherson; her daughters Tracy (Bernie) McPherson – Baker, (Calgary), Leah (John) Carpenter (Dartmouth); grandchildren Kristen, Jesse, and Holly (Calgary); step grandchildren Madison (Calgary), Nolan (New Waterford); great grandchildren Aleah, Faith and Kaiden (Calgary); brothers Richard 'Dickie' (Evelyn), Rexford 'Junior', Robert 'Bob' (Sue), Charles 'Peewee' (Judith) (all of Ontario); many nieces, nephews and very dear friends.

Sharon was predeceased by her parents James Rexford 'Rex' and Hilda Mary (Voutour) McDermaid; sisters Hilda Dorothy Ann, Brenda Joyce in infancy; brother William 'Billy'; Aunt Mary Voutour; mother and father in law; Wilfred 'Biff' and Genevieve 'Jenny' (Oliver) McPherson; sisters in law Marlene Jewer, Judy McPherson, Simone McDermaid, Fray Hogan; brothers in law Bill Jewer, George Snook, Brian McPherson, Raymond 'Goodlord' Hogan; nephew Darrell McDermaid; and her niece's husband Brian Russell.

Special thank you to the doctors and nurses at the QE2 Halifax Infirmary for their heartfelt dedication to Mom's care. We sincerely thank home care in New Waterford for taking care of Sharon for years before she moved to Dartmouth, and to Oceanview Nursing Home for always going above and beyond to keep Mom in contact with her family during these uncertain times.

Cremation has taken place. A chapel service will be held at a later date.


Funeral arrangements are under the direction of McLellan Brothers Funeral Home, 3183 Plummer Ave, New Waterford, 902-862-7500.