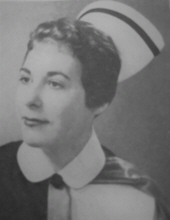 Obituary for Pauline Agnes Leon
LEON, Pauline Agnes (Currie)
Sydney

Surrounded by her loving children, Pauline passed away on March 19th, 2020 at the
Cove Guest Home following a lengthy battle with Alzheimer's Disease.

Born in Sydney on July 7, 1940 she was the daughter of the late Patrick and Matilda
(Hall) Currie of East Bay.

Pauline graduated from St. Rita's School of Nursing in 1960. She started her career
working out West until her mother fell ill and moved home to private nurse her. She
worked in St. Rita's Hospital, Cape Breton Hospital, then Braemore Home as Unit
Manager up until retirement. She loved her career and made many friends along the way,
and special friends for life were Pasty Brennan and Liz (Roland) Chiasson.

She is survived by her children Cheryl Reid, Halifax, Cindy Fougere, Pam (Keith)
Armsworthy, both of Sydney, John Paul (Jill), Antigonish; her loving grandchildren
Morgan, Kirsten, Brandon, Rachael, Kendra, Christopher, John and Colin; sisters
Patricia (Joe) Leon, Shirley (Pierre) Bourgeois; brother-in-law Henry (Dorothy)
Leon; as well as many nieces and nephews. Predeceased by her husband John, her siblings
Grace Farrell, Susie Dickson, John, Paddy, Cyril and Mickie Currie, Sarah MacLean, Aggie Ramsay, Georgina Whalen.

Due to the current health pandemic, funeral services are being delayed and will be
announced at a later date.

Funeral arrangements are under the direction of McLellan Brothers Funeral Home, 3183 Plummer Ave, New Waterford, 902-862-7500.