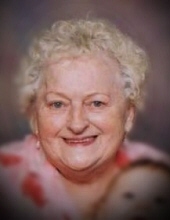 Obituary for Margaret "Madge" Hurley
It is with great sadness we announce the passing our dear mother, grandmother, great-grandmother, Margaret "Madge" Hurley on May 1, 2019, peacefully at home.
Born December 8, 1934 she was the daughter of the late Thomas and Catherine (Taylor) Blanchard.

'Ma", as most people called her, was an avid bingo player, loved to cook, sing and play cards. She spent most of her life taking care of others. She always made sure her "babies" had everything they wanted or needed. She will be missed greatly by everyone who had the privilege of knowing her. She was a former resident of New Waterford but was residing with her daughter in Glace Bay.

She is survived by her loving family, sons, Joseph, Ronald, Darren (Melissa), John; step-sons Thomas (Gloria), Michael (Cathy); daughters, Laurie (Jimmy), Iris (Darren), Angel (Norman), Amanda (Steven); step-daughter, Annie (Alec); brother, Bobby (Evelyn) and sister-in-law, Mary Blanchard; also, numerous grandchildren and great-grandchildren, nieces and nephews.
She was predeceased by her husband, Michael Hurley; children, Catherine (Kay), Daniel "Buddy", brother, Richard (Dick) and son-in-law, Ray Bennett.

Cremation has taken place and a chapel service will beheld Tuesday, May 7th at 2 p.m. in the funeral home Chapel with Fr. Ray Huntley officiating. Interment in St. Agnes Cemetery followed by a luncheon at the Parish hall, Convent St., all are welcome.

Funeral arrangements are under the direction of McLellan Brothers Funeral Home, 3183 Plummer Ave., New Waterford, 902-862-7500. The family would like to thank New Waterford Homecare and the VON for their help and support with Ma in her final days. Donations can be made to a charity of one's choice. To send online condolences go to: www.mclellanfuneralhome.com.