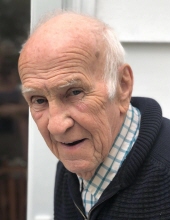 Obituary for Jerome Joseph MacDonald
Jerome Joseph MacDonald
River Ryan

It is with great sadness that the family of Jerome MacDonald announces his passing. After a long courageous battle with cancer Jerome transitioned peacefully on July 6, 2020.

Born in New Waterford September 15th, 1928, he was the son of the late John Malcolm MacDonald of Judique Interval and Mary MacDonald of Black River, N.S.

Jerome worked in #16 Colliery for 13 years before he began his career as a well-known small businessman who operated several food, retail, and other businesses. He also promoted music and other events over the years. He owned standardbred horses and was an avid harness racing fan. He was a lover of nature and natural beauty. He studied Italian and computer classes well into his eighties. Jerome embraced social media, using it to stay in touch with family and friends, and to pursue his many interests. His Facebook community gave him immense pleasure, maintaining many lifelong friendships. His love of Cape Breton Island inspired him to create his own Facebook group titled God's Acreage Cape Breton. He streamed harness racing simulcasts from around the world and shared race nights with his nephews on a regular basis. Jerome spent his last 5 years hosting international students, whom he treated like family. He was truly fortunate to have a significant support network among his many friends. He enjoyed his visits and lunches with his 104-year-old sister Catherine. A wonderful, supportive husband, father, grandfather, brother, and friend, who was loved dearly and will be missed by all who knew him.

As a longtime cancer survivor, Jerome was grateful for the care and support he received. We would like to give special thanks to Dr. Khodadad, Dr. Mahmoud-Ahmed, Dr. Puppala, Dr. Abboud and his longtime Family Physician, Dr. Littlejohn. We would also like to thank the team of the Cape Breton Oncology Department, Cape Breton County Homemakers, VON, Palliative Care services and his Homecare Coordinator Laura Lee Gillis.

Jerome is survived by his sons Kenny (Jody), Kirk (Lucie); his daughter Kim (Lawrence); sisters Catherine Nemis and Alma Rame; brother in law Sonny Gottwald; sister in law Norma Mac Mullin ; lifelong friends and neighbours Archie and Shirley MacIntyre; his loving grandchildren; numerous nieces and nephews and his furry companion Pepsi.

Besides his parents, he was predeceased by his loving wife Vanda (Parisotto); brothers Judique, Frank, Colin, Ockie; sisters Annie, Cassie, Christina, Rachael, Cecilia, Marina and Margaret.

Dad will be missed so much; may he rest eternally.

Cremation has taken place and a memorial service will be held later. Donations in Jerome's memory can be made to the Canadian Cancer Society.

Funeral arrangements are under the direction of McLellan Brothers Funeral Home, 3183 Plummer Ave, New Waterford, 902-862-7500.