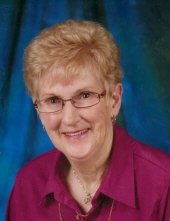 Obituary for Janette MacKinnon
With broken hearts we the family of Janette MacKinnon of 9 School St, River Ryan wish to announce her peaceful passing surrounded by her loving family on Saturday, March 7, 2020.

Born in New Waterford, she spent her entire life in River Ryan. She worked 19 years as a certified nursing assistant and then went on to do 35 years as a hairstylist as the owner and operator of Janette's Barbering & Hairstyling.

A person of great faith & love for her God, her two favorite sayings were, "Let go & Let God" and "It all happens for a reason." She was a very active member of the former Parish of St Michael's for 25 years, on every committee, and chairing most of them.

She enjoyed life to the fullest and as a single parent she used to say, "I did what I had to do, then I did what I wanted to do." She loved and cherished her two children and her grandkids. She immensely enjoyed being there for them. Very active in sports, she enjoyed her daily walks with her dogs, exercise class, darts, line and square dancing. Janette was the rock of her family & friend's. She was very dependable and sincere. She always made herself available with her support, love and advice.

Surviving are her loving children, Stephanie (Dave) Sturge, Justin (Angela) MacKinnon. Grandchildren Carter, Austin Sturge & Jeffrey MacNeil (Tiffany). One great grandson, Alexander MacNeil. Sister, Agnes MacKinnon, brothers, Danny MacKinnon, John (Geraldine) MacKinnon, Gordon (Phyllis) MacKinnon. Sister-in-law, Anita MacKinnon as well as many nieces and nephews.

Janette was predeceased by her parents, Mary Jane & John Joe MacKinnon. As well as brothers Alex (Maime) MacKinnon, Roddie (Tazuko) MacKinnon, Art (Fran) MacKinnon, Mickey (Shirley) MacKinnon and Bennie MacKinnon. Sister, Kay (Phill) Chaisson. Brother-in-law Murdock Mackinnon and sister-in- law Rose MacKinnon.

Visitation will be held at MacLellan Brother's Funeral Home at 3183 Plummer Ave in New Waterford on Thursday evening, March 12th between 6 and 9 PM. Funeral mass will take place on Friday, March 13 at 10 AM in the parish church of St. Leonard on Mount Carmel Ave in New Waterford, with Fr. Ray Huntley officiating.

A gathering with family and friends will proceed after the service at the parish hall on Convent St in New Waterford. All are welcome.

In lieu of flowers, donations can be made to a charity of your choice.

Funeral arrangements are under the direction of McLellan Brothers Funeral Home, 3183 Plummer Ave, New Waterford, 902-862-7500.