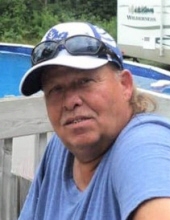 Obituary for Herbert 'Herbie' Joseph Woodland
Herbert Joseph 'Herbie' Woodland
New Waterford

It is with deep sadness that we the family of Herbie Woodland announce his sudden passing on July 23, 2020, at home. Born in New Waterford on July 5, 1965, he was the son of the late Herbie and Georgina (Steiger) Woodland.

Herbie worked in sales and was a local bartender. He was a fan of all sports with the Toronto Maple Leafs being his favorite team. He loved dogs, especially his fur buddy Austin, who gave him great joy. He enjoyed the simple things in life and spending time with his family and friends.

Herbie is survived by his daughter Chelsea Talbot; grand-daughter Serenity; sister Jackie (Steve); nephews Cyril (Jacquline), Nygel (Alycia), Blake (Kim), Moe, Callan; special niece Kelsey, and many close friends.

Besides his parents, he was predeceased by his sister Barbara Ann.

Cremation has taken place. A private family chapel service will be held at a later date, with interment in St. Michael's Cemetery. Donations in Herbie's memory can be made to the Heart and Lung Association.

Funeral arrangements are under the direction of McLellan Brothers Funeral Home, 3183 Plummer Ave, New Waterford, 902-862-7500.