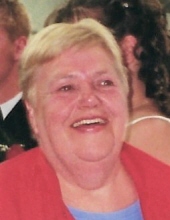 Obituary for Henrietta Irene MacIsaac
Henrietta Irene MacIsaac (Miles)
Scotchtown

It is with great sadness that we announce the passing of our mother Henrietta Irene MacIsaac (Miles). Henrietta (Hen) passed away peacefully on 17 June 2020 at the New Waterford Consolidated Hospital after a brief illness.

Born on 22 December 1936 in Dominion, Ma was the daughter of the late Mae Boutilier and Daniel Connors and was raised by maternal grandparents Minnie and Jim Miles.

At the age of 15 she began working as a member of the housekeeping staff at the Glace Bay General Hospital and spent the majority of her career at the New Waterford Consolidated Hospital. In 1956 she married Alex MacIsaac and moved to Scotchtown where she resided until her passing. After her retirement Ma spent her time quilting, gardening, reading, and telling stories about growing up in Dominion. Ma loved to laugh and to keep up with the news of the day. She was also known for her large collection of Elvis records, a staple of many parties over the years.

Ma is survived by her daughters, Debbie MacIsaac, Scotchtown; Joanne (Clayton) Jacobi, Scotchtown; grandchildren, Brian (Terra) Jacobi, Orangeville, ON; Nancy (Trevor) Armstrong, Seattle; Courtney MacIsaac (Don Nerbas), Montreal; four great-grandchildren, Taylor, Cohen, Layla, Hayden. Also left to mourn are her sisters, Eleanor Miles, Glace Bay; Mildred Metcalfe, Toronto; Heather Hunt, Howie Centre. She is also survived by sisters-in-law Gloria McNeil, Lorraine (Ray) McNeil and brother-in-law Allie (Linda) McIsaac, all of New Waterford, and many nieces and nephews. Ma is also survived by special cousins Wilda Lewis and Lorraine McLellan of New Waterford, and life-time friend Earlene Smith of Windsor, Ontario. Besides her parents, Ma was predeceased by her husband of 45 years Alex MacIsaac in 2001.

We would like to thank the staff of the An Cala Unit at the Cape Breton Regional Hospital as well as the staff at the New Waterford Hospital for their compassion and support.

At Ma's request there will be no visitation. Cremation has taken place. A graveside service will be held at the Union Grove Cemetery, Scotchtown, at a later date. Ma was an animal lover. In lieu of flowers, donations in Henrietta's memory can be made to the Cape Breton SPCA.

Funeral arrangements are under the direction of McLellan Brothers Funeral Home, 3183 Plummer Ave, New Waterford, 902-862-7500.