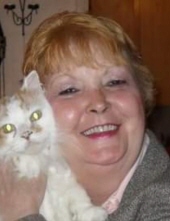 Obituary for Dorothy Mary Bersuk
Dorothy Mary Bersuk
Sydney, N.S.

It is with heartfelt sadness that we announce the passing of a wonderful friend Dorothy Mary Bersuk, 68, at the Cape Breton Regional Hospital, in Sydney, on July 3rd, 2020.

Dorothy was born in Loch Lomond N.S., on November 5th, 1951, to Peter and Tilly (Robicheau) Bersuk.

Dorothy was a kind-hearted and giving person who brought much joy to many people through her musical talent of singing and playing guitar. In her younger years she sang in the popular band "Free Wheelin". She was an avid animal lover, especially to her 2 cats of 20 years, Tucker and Lefleur, whom she deeply missed after their passing. Dorothy loved life, she loved people and loved to laugh. She will be so very much missed by all who knew her.

Besides her parents, Dorothy was predeceased by sisters Marie MacIntyre and Anne Marie Gillis, both of Sydney N.S., and an infant brother P.J.Bersuk.

Dorothy is survived by her only son, Wayne St. George, her sister Lucy Bersuk, several nieces, nephews, and cousins.

Also left to mourn are her close friends; Eddy Ivany, Sydney, N.S., Glen Assoun, Dartmouth, Myrna and Dino Gibson, Glace Bay, Sharon and Bree Cadden, and Dale Cadden of New Waterford.

There will be no visitation. Cremation has taken place, and a private memorial mass will take place with interment in Union Grove Cemetery.

In lieu of flowers donations may be made to the Cape Breton SPCA.

When I am down, He lifts me up
When I fall, He carries me
When I lost my way, He is the way
When I can't find my way, He directs the path before me
Jesus is our everything

Funeral arrangements are under the direction of McLellan Brothers Funeral Home, 3183 Plummer Ave, New Waterford, 902-862-7500.