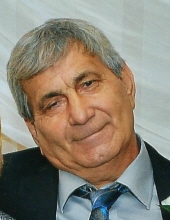 Obituary for Daniel Anthony Burns
It is with deep sadness that we the family of Daniel Anthony Burns, announce his sudden passing at home on March 4, 2020. Born in New Waterford on December 5, 1952, he was the son of the late Patrick and Margaret (Chauder) Burns.

Daniel was a retired coal miner who worked in the Lingan Mine for several years. He loved gardening and spending time with his family.

Daniel is survived by his wife Agnes (Hogan) Burns, his son, Daniel Jr.
(Elizabeth) Glace Bay, his daughters; Laurie Ann and Amanda (Brent) Burns, grandchildren; Jonathan, Sarah, Matthew, Joshua, Jessica Burns, James Jury, step-granddaughters; Jessica, Katie and Abbie Munden; 7 great-grandchildren; sister Patsy (Bob) Burchell, Dartmouth, brother Ernie (Susan) Burns, Ontario, and several nieces and nephews.

Besides his parents, he was predeceased by his sisters; Alice Burns, Helen Pitcher, brothers; Joey and Tommy Burns.

Cremation has taken place. A chapel service will be held at McLellan Brothers Funeral Home Chapel on Tuesday, March 10, 2020 at 11 am with Father Ray Huntley officiating. Interment will take place at a later date. Donations in Daniel's memory can be made to the charity of one's choice.

Funeral arrangements are under the direction of McLellan Brothers Funeral Home, 3183 Plummer Ave, New Waterford, 902-862-7500.