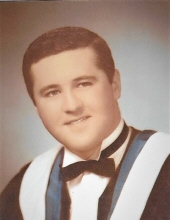 Obituary for Colin Francis Donovan
Colin Francis Donovan, loving husband to Lillian (Hillier), his caring and devoted wife of 44 years, died peacefully at home on December 28th, 2019, at the age of 73.

He was the son of the late George Daniel and Dorothy Irene (Petrie) Donovan, of Dominion.

Colin was a New Waterford area educator for more than 32 years.

He was a proud father to sons Shawn Patrick (Genevieve); Ryan Daniel (Eva) and Conal Edward Alphonsus (Aimee), and the loving grandfather of Cullan, Zoey, Lara, Kai, Rosalia and Alexander Donovan.

Colin was the brother of Dorothy Irene MacInnis (Lloyd - deceased) and Georgia Lee Marier (Mike), and brother in law to Margie. He is further survived by nieces, nephews, other relatives and friends.

Special thanks to his fishing buddies and close friends, Peter, Roddie, Ray, John, and Harry (deceased) for their friendship over the years, and to the nurses from Palliative Care for the excellent care they provided to Colin.

Besides his parents, he was predeceased by his in laws Walter and Anna (Van Hove) Hillier and brother in law Harry Hillier.

Visitation will be held on Thursday, January 2, 2020 from 5-9 pm, with funeral mass on Friday, January 3, at 10 am in the Parish of Saint Leonard, with Father Ray Huntley officiating. Interment will be in Saint Eugene Cemetery, Dominion, followed by a luncheon at the Parish of Saint Leonard Hall on Convent Street.

In lieu of flowers, the family asks that donations in Colin's memory be made to Cape Breton Regional Hospital Palliative Care .

Funeral arrangements are under the direction of McLellan Brothers Funeral Home, 3183 Plummer Ave, New Waterford, 902-862-7500.