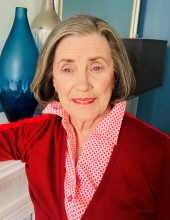 Obituary for Anna Bernadette MacLean
It is with saddened hearts that we the family announce the passing of our dear mother, grandmother, great-grandmother, sister, aunt, and friend, Anna Bernadette MacLean. Anna passed away at the New Waterford Consolidated Hospital on June 27th, 2020. On October 2nd, 1939, Anna was born in New Waterford to the late George MacDougall and Madeline Walsh.

Throughout her childhood and teenage years, Anna had lived in many places across the province. However, she learned the true definition of home when she met her husband, Raymond Myles MacLean (deceased), fell in love, and raised their nine children, to whom they devoted their lives; Billy, Audrey (David), Carol Ann (Mike), David (deceased) (Anne), Anita (Wayne), Arlene (Kevin), Robert (Chris), Lisa (Kenny), and Randy. Anna lived her life by example, demonstrating the importance of love and forgiveness. She taught her family to hold on when times got tough, and do not let go when things got worse. The love and life she shone into our hearts could always lift us from darkness and make us whole again.

Anna's spirit and strength will live on in each one of her grandchildren. She dedicated her life to providing love, support, and discipline needed to encourage personal growth, all built on a solid foundation of kindness and faith. She valued each grandchild for their unique, distinctive qualities. Anna offered unconditional love and comfort for her grandchildren and great-grandchildren, if not in person, over the phone or through prayer. She leaves behind Stephen, Lynn, Anthony, Jana, Michelle, Shana, Rene, Kurtis, Alyssa, Josh, Monique, Zachary, Rhianna, Brenden, Addison, and Violet. Great-grandchildren; Dominic, Christopher, Rebecca, Nikolis, Rylan, Jaxon, Brady, Talia, Cooper, Jesse, Tyler, Tyler, Lily, and Silas. We love you, Grandma.

Anna quickly learned the importance of family as a child. She gained incredible strength and resilience from the mutual love and support of her sisters, Patricia, Mary Agnes, and Norma (deceased). The bonds these sisters developed as children grew over time despite decades of physical distance. Anna appreciated any chance she had to reconnect with her siblings, in person, or over the phone. Hearing stories about her many nieces and nephews always warmed Anna's heart. Anna's soul was touched by more than her family. Anna's dear friends, Darlene, Anne, Janet, and Jennifer will never forget the moments they shared talking, laughing, and enjoying each other's company

Anna's ability to create was limitless. She could bring fabric to life, creating anything from a casual outfit, an exquisite wedding gown, an innovative dance costume, or timeless drapery. Anna's zest for sewing was always a labor of love. The same could be said about Anna's passion for gardening. She had the patience to spend countless days and evenings nurturing her living creations with the same love she provided her family. Anna loved to sing and was gifted with a beautiful voice that will never be forgotten. When she wasn't singing, she could always be heard humming quietly to one of her favorite songs, as she went about her daily routine. Anna also loved to dance, and when given music and good company, she could dance the night away. Those who knew Anna well understood her quiet, peaceful nature was often accented by unexpected and well-timed humor.

We, the family, would like to extend a warm thanks to Dr. Azer, Tracy Brown, the Cape Breton Cancer Centre, the nurses and care providers from New Waterford Consolidated Hospital, the Inspire program, the VON, and New Waterford Homecare.

Cremation has taken place under the direction of McLellan Brothers Funeral Home, 3183 Plummer Avenue, New Waterford, NS. 902-862-7500, and a celebration of her life will be held at a later date. Donations in her memory can be made to the Juvenile Diabetes Association, Heart and Stroke, Alzheimer Society of Nova Scotia, or the Cape Breton Cancer Center.

As we honor our mother's memory, we reflect on the way she lived her life. She embraced life, was grateful and humble, practiced patience, and never judged others. Most importantly, she loved with an open heart.