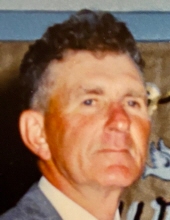 Obituary for Alexander 'Sandy' Wilson
It is with heavy hearts that we, the family, announce the passing of Alexander "Sandy" Wilson (88) of New Victoria, Nova Scotia on December 30th, 2019.

Sandy was a loving husband, brother, father, and grandfather. He was pre-deceased by his parents Jim and Rosie (Gouthro) Wilson, brothers Jimmy and Gordie Wilson, and his loving wife Mary Irene Wilson.

Sandy was born in New Waterford on Nov. 3rd, 1931 and lived in New Victoria his whole life. He was an avid skater, hockey player, and baseball fan and can be remembered playing well into his later years; something he shared deeply with his kids and grandkids.

Sandy loved to reminisce about his working days in the coal mines and with the Nova Scotia Carpenters Union. Even though he had told the stories many times before, he was just as excited telling it the last time as he was the first.

If Sandy wasn't at home, you could find him walking the loop through town, at the Brown's Rd. lighthouse, or down at the shore. He was a family man, and every chance he had, he would have his grandkids in tow visiting his friends all over New Victoria, being a proud Grandpa.

Sandy is survived by his daughter Pamela (Wally) Berko of Port Severn Ont. Son Alexander "Sandy" Jr. (Maureen) Wilson of Lantz, grandkids Carley Anne and Cameron (Shannon) Berko and Jessica, Grant, Jeanna, and Blake Wilson. Sisters Margie Keiser of Lawrencetown, Jeannie Snook of Port Hawkesbury, brother Doug Wilson of Chilliwack, BC, along with countless nieces, nephews, cousins, and friends.

The family would like to extend a special thank you to the nurses and CCA's at the Inverary Manor in Inverness and Cedarstone Enhanced Care in Truro, along with the New Waterford VON for the care and support they showed Sandy in the last few years.

Cremation has taken place and a service and burial will take place at a later date (to be announced). Donations in Sandy's name can be made to the Nova Scotia Alzheimer's Society.
Funeral arrangements are under the direction of McLellan Brothers Funeral Home, 3183 Plummer Ave, New Waterford, 902-862-7500.